1927-1934
Mr Burfoot, Stanley Peet & Mr Monk
The church was without a Pastor from 1927 until 1934. This was a trying time for the Church. They prayed continually that the Lord may provide a man to lead them. In 1929 they felt it right to extend an invitation to Mr Burfoot. At first Mr Burfoot declined feeling that it was not the Lord's will. The church persisted and later asked that he take on the role for six months. Mr Burfoot agreed but at the end of the six months he did not feel it was right to continue.
In October 1931 Mr Stanley Peet was asked to consider the position of Pastor. After spending some time discussing the matter with his family and putting it before the Lord, Mr Peet did not feel it was the Lord's will that he should be Pastor. Mr and Mrs Peet did however joined the church in 1934 when they moved from Hope Baptist Chapel, East Ham. From that time they were both very active within the church and Mr Peet continued his work, with the London City Mission, as a missionary at the London Docks.
During their time at Homerton Row Chapel, Stanley Peet and his wife had a number of children including James Peet who later became Pastor in our sister in St. Neots, Cambridgeshire, leading up to the start of World War II. After war he spent his time as a teacher in Margate and worked with down syndrome children. Later he became the Pastor in Margate, Kent during the 1980's. James Peet's grandson Stephen Challen joined the church membership in 1996 and has actively worked in the church since.
Two years later, in 1936, again the church thought it was right to extend an invitation for a Pastor. They called Mr Monk. However, Mr Monk did not feel it was right to accept the call.
These were hard times for the church but in God's time their prayers were answered and in 1934 Mr George Smith was called to be pastor.
The church meet regularly in the chapel in Homerton Row.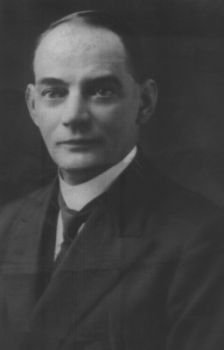 Mr Stenley Peet