1963-1985
Sydney G Barrett
In 1962 the church offered a call to Mr Barrett. The welcome service was held on 15th June 1963. During this time the church moved from its premises in Homerton Row to its brand new building in situated Barnabas Road. The photo on the right shows Pastor and Mrs Barrett in front of the new premises.
Pastor Stone and Pastor Howell spoke on this occasion. During Mr Barrett's time as Pastor 37 people joined the church.
Mr Barrett died unexpectedly in 1985. Mrs Barrett was quite ill and sadly she too died a few months after Mr Barrett.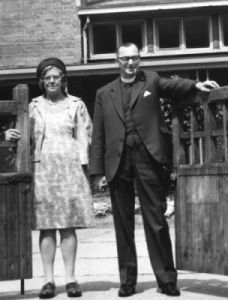 Pastor Sydney G Barrett