Our Leadership
The leadership of Homerton Baptist Church consists of two elders, Pastor Steven Richards and our Assistant Pastor Stephen Challen, and a committee of ten Deacons.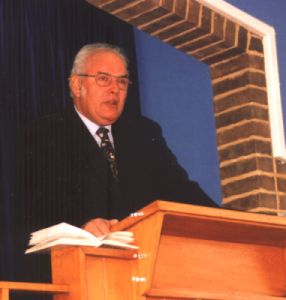 Pastor Steven Richards
Steven Richards was born and raised in west London in the 1940s. In his early teens he started to attend the Covenanter group at Swan Road Baptist Church West Drayton. He was converted and baptised in his mid teens.
Opportunities arose for him to be involved in the young people's work at West Drayton and he eventually became the youth leader. Shortly after he was appointed as a Deacon of the church. At the same time he was given opportunities for ministry at Swan Road and other local churches. His time at school was not the best and he left at the earliest opportunity. Initially he worked in sales in different companies and then moved to work in the buying department of Quaker Oats Ltd. During this time there were ever-increasing opportunities for preaching and it became clear that the Lord was calling him to pastoral ministry.
He married Judy in May 1970 and later that year commenced a three-year training course at South Wales Bible College. After leaving College he was called to pastor the Baptist church in Caerwent, Gwent. Steven and Judy were at Caerwent for nearly three years and it was during that time that Madeline their first child was born.
They then moved to Bear Lane Baptist Chapel in Farnham, Surrey. It was during this time that their second child Rebecca was born. This was a very small fellowship and although they were clear evidences of the Lord's blessing the church did not grow significantly. After ten years they felt that they should move and in 1986 took up the Pastorate at Barnabas Road Baptist Church, Homerton.
Steven has continued to Pastor the church at Homerton, which has now changed its name to Homerton Baptist Church, and the Lord has been pleased to bless us in many ways. Both Madeline and Bec were baptised at Homerton. Madeline married Stephen Challen and they now have three daughters and a son. Bec married John Silva and they have two daughters and a son and they now live in Philadelphia, USA. The church and congregation have grown numerically and we look forward to continued blessings under Steven's ministry.
Over the years Steven has actively been involved in the work and of Grace Baptist Mission and served on the Mission Council for 15 years. He is one of the longest serving pastors of the Association of Grace Baptist Churches (South East) and has served as a member of the main committee, as well as having been the Chairman of the East District for the Association for eleven years. He also has served actively in the local community and has been governor at different schools.
Pastor Stephen Challen
Stephen Challen was born in Northumberland, however grew up in Asia from the age of 14 months until approx 10 years of age. He was converted as a teenager and become a member of Dorking Road Baptist Church, Epsom. In Feb 1996 he moved to the Isle of Dogs, and joined the church at Homerton as a member, and later that year he married Madeline Richards. Over the years Stephen has been actively involved in the church and served as a deacon for many years. Stephen has been the Assistant Pastor since January 2015.
Over the years Stephen has worked in Accountancy & ICT in various capacities. Stephen has worked in the ICT industry for 20 years, provided management support, and helped establish and run a small charity that works with children and adults with neurological conditions.
Stephen's current main project for the church is the redevelopment project and he would value your prayers for all that is involved in this task.